Top 10 Best Vocabulary Apps
Children are like sponges and can expand their vocabulary through a repeated exposure to new word usage. As they hear new words and learn their meanings, they can develop a larger vocabulary from a very young age and on throughout their lives. Vocabulary Apps are an awesome way to help a child in usage of words. Vocabulary apps engage a child through Scrabble and puzzle type games. Some of the apps center around the meaning of words, their synonyms, opposites and homophones. The various games are for solo use or to have fun with others. Some are free while others may charge a minimal fee. Consider some of the top 10 vocabulary apps to help your child increase their vocabulary and a love for reading.
World's Worst Pet - Vocabulary
Help your students build a rich vocabulary of essential words! World's Worst Pet exposes students to over 1000 Tier Two words at 6 different levels through four engaging games. Aligned to the Common Core, this app provides student-friendly definitions, a playful narrative, a fun reward system and thought-provoking writing prompts!

World's Worst Pet is part of i-Ready— an award-winning, blended learning program published by Curriculum Associates. Learn more about i-Ready at i-ready.com/empower.


FEATURES

World's Worst Pet is structured to provide repeated exposures to a cluster of conceptually related target words.
• Teaches more than 1000 words across five grade levels, from grades 4 – 8 with content available for students who are working a level behind
• Student-friendly definitions provide clear explanations with rich examples that illustrate how each word is used.
• Engaging narrative and reward system keeps students motivated
• Activities include word context, word sort, synonyms, and antonyms.
• Students see the same word multiple times in a single set of activities.
• Includes Spanish cognates
• Includes immediate feedback
• Uses a real human voice not synthesized robotic speech
• Aligns with Common Core State Standards
• Writing prompts provide an opportunity to use words in types of writing identified by the Common Core


RESEARCH BASE

World's Worst Pet leverages best practices from Reading research
• Targets Tier Two words, selected from research-based lists.
• Also targets domain-specific words, including science and social studies words.
• Teaches words in conceptually related clusters
• Provides clear student-friendly explanations
• Provides multiple exposures and repeated practice across a variety of contexts
• Helps students make multiple connections between words and their experiences.
• Explores word relationships, including synonyms and antonyms
• Includes Spanish cognates such as vehículo for vehicle or numeroso for numerous
• Includes writing prompts focused on the target words in each cluster


ALIGNED TO COMMON CORE

World's Worst Pet develops concepts, skills, and strategies as targeted by the Common Core.
• "The importance of students acquiring a rich and varied vocabulary," write the authors of the Common Core, "cannot be overstated."
• Tier Two words are central to understanding complex text, and World's Worst Pet provides multiple exposures and repeated practice in these words.
• Aligns with vocabulary standards in these sections of the Common Core State Standards:
o Reading Standards for Literature
o Reading Standards for Information Text
o Language Standards: Vocabulary Acquisition and Use


SUPPORT

Have questions or feedback?
Email: i-readysupport@cainc.com
Phone: 800-225-0248
Monday – Thursday 8:30 a.m. – 7:00 p.m. EST
Friday 8:30 a.m. – 5:00 p.m. EST
Kids Vocabulary, Grammar & Lan...
Get your child ready for school with Boing and these fun Language development learning and educational games for kids in Preschool and Kindergarten designed for iPhone, iPad and iPod touch!
Dive into the ocean with Boing for some new fun adventures! Your child will learn and practice key Language skills such as vocabulary, listening comprehension and basic grammar while playing with lovely underwater animals!

• Played by millions of kids!
• iLearn With apps won numerous awards such as "Best In Family-Friendly Products" – Moms' Choice Awards, and "Brain Toy Award" – Academics' Choice Awards.

5-STAR REVIEWS
"Perhaps the most outstanding app among Tribal Nova's iLearn With series. Definitely a must-have app for language development." – The iMums

"The Sentence Formation game was definitely the hands-down favorite mini-game at our house. My 9-year-old was surprised to hear that the app was only recommended for children up to 6 because she has SO much fun building silly sentences herself. Overall rating 5/5!" – Apps For Homeschooling

GAMES DESCRIPTION
*Free to try!*
Vocabulary: Help the octopus find the hidden objects he needs to juggle, and learn how to group these objects based on their nature or what they are used for.

*Unlock the full version of this app with a single in-app purchase and learn and play with these educational games:*
Sentence Formation: Form a sentence by placing the crabs in the correct order based on their grammatical nature and watch your story come alive! This game includes a two-player mode for parent-child or peer-to-peer gameplay.

Listening Comprehension: Follow the instructions and place the clown fishes on the right spots to watch them dance! Learn about spatial sense and directions from 2 to 5 multi-steps.

ILEARN WITH EDUCATIONAL PROGRAM - KEY FEATURES
This app is part of the award-winning iLearn With educational program for kids in Preschool and Kindergarten designed to get your child ready for school while having fun!

• Cross-curricular game-based learning program in Math, Science, Literacy, Language and more
• Self-adjusting levels of difficulty
• Unique progress tracker to follow your child's progress across apps and devices
• Detailed success stats
• Recommended learning path personalized for each child
• Add up to 4 children per account
• Over 200 fun rewards to motivate your child to continue his/her learning experience
• Designed with educational and child development experts
• No third party advertising

Find out more on www.ilearnwith.com.
This app is certified by the kidSAFE® Seal Program. To learn more go to www.kidsafeseal.com.

QUESTIONS?
Do you have questions, suggestions or comments? Please email us at support@ilearnwith.com and we'll be happy to help!

These fun language development learning games have been designed with educational experts for kids 3, 4, 5 and 6 years old and either in Preschool, Kindergarten, Pre-K, 1st grade of Primary school, or Homeschool to learn vocabulary, listening comprehension and basic grammar.

Copyright © 2015 BOING and I LEARN WITH are exclusive trademarks of TRIBAL NOVA INC. All rights reserved.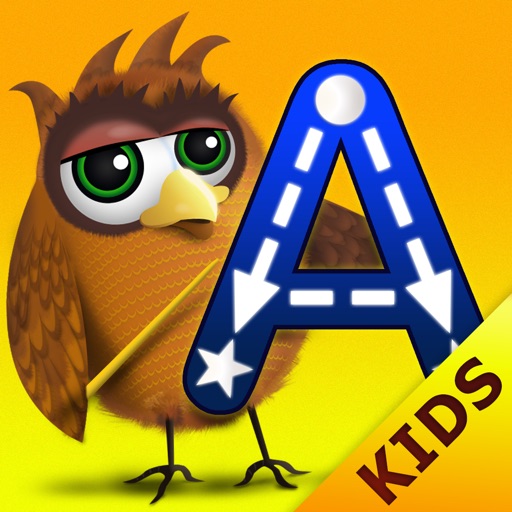 Kids Academy • Learn ABC alpha...
by TINYHANDS APPS EDUCATIONAL LEARNING GAMES FOR BABIES TODDLERS AND KIDS CORP.
Kids Academy • Learn ABC alpha...
Learning to write has never been more fun! With Montessori Worksheets for Kids Free your kids will not only learn to write letters, but will also develop good handwriting skills! The app turns the learning process into what kids love the most - a game!

--- FEATURES ---

•A proven multisensory approach teaches children to write uppercase and lowercase letters
•Kids are encouraged and praised at every stage of the learning process
•Dotted lines and arrows guide kids through the letter tracing process
• Left hand and right hand modes
•2 levels of difficulty
-tracing a letter with hints
-writing a letter independently
•Kids build their skills progressively, from tracing to writing, at their own pace
•Positive reinforcement through use of audio and visual cues
•Kids learn age-appropriate vocabulary and the ways each letter can sound in a word
•Kids get stars for their performance:
-3 stars - for successful task accomplishment at first or second attempt
-2 stars – if they had 3 or 4 goes at tracing and writing
-1 star – if they had more than 5 tries
•Clean graphics
•Soft and encouraging voice over
•Clear voice instructions

Enjoy watching your kids get more and more confident at writing while having loads of fun on the way!
iTouchilearn Words Free for Pr...
**Designed to Stimulate Early Language Development**
"My son is 24 months and your app is teaching him to read!"
"This is a great app. I am a Speech Pathologist using this for two months now in my preschool classroom consisting of six Autistic children. They are acquiring words faster then in the ABA model and are all highly motivated by it."
"I use this with my preschooler at home and am looking forward to using it at work, with children who have language delays!"
"Excellent pictures for all students and preschoolers. As a bilingual speech language pathologist this app will definitely come into good use."

"iTouchiLearn Words gives an interesting twist to educational apps. The animations are colorful and amusing, and hold great appeal for kids. Most iPhone educational apps work with flashcards, and iTouchiLearn Words is a fresh perspective that kids will enjoy and also learn something new in the process. iTouchiLearn Words is a fun way for kids to learn how to spell, pronounce and also see what words look like. It is definitely one of the better educational apps on the iPhone, and more of it would be most welcome." -iPhone Educational Games

"For those parents who have children who are just beginning how to learn to read, or for those parents who want an "edutaining" app for their young child, iTouchiLearn Words is a great choice. This app only costs $1.99, but it is better than some game apps that you will find priced so much more. iTouchiLearn Words will quickly become a favorite of your child. I highly recommend iTouchiLearn Words. iTouchiLearn Words can help children learn how to recognize certain words, and can teach them that learning is a fun process, too." Helium - 5 Stars!

"A cute and engaging educational app geared toward teaching toddlers word and image associations. Great for the burgeoning mind. I really like the egg animation, in particular. It's actually quite brilliant, and I'm sure, fascinating for a child to behold. iTouchiLearn Words definitely has more potential than other, more static flashcard type apps in the App Store." -AppStruck - 4 Stars!

Engaging and interactive animations and activities that teach kids about the context of words while making them laugh. Each word game reinforces learning with virtual rewards. Interactive word animations associate words and corresponding action. This provides preschool and special needs kids with a greater understanding of words and their corresponding meaning. Each activity teaches:

*Word Recognition
*Sight Words
*Spelling
*Reading
*Fine Motor
*Speech Therapy
*Cognitive Skills
*Early Learning Literacy

Optimized for iPod touch (3rd Generation) +, iPhone 3GS, 4, 4S, 5, 6, 6Plus, iPad 1, iPad 2 , iPad 3, iPad Air, iPad Air 2, iPad Pro

Please support us by giving us feedback, high ratings and reviews! This encourages us to keep updating iTouchiLearn Words with new features so you can reap the benefits!

We are committed to providing you with the best user experience. If you are experiencing any problems or have questions, please contact us directly within the application.

Original Artwork and Animations created by Jake Scarano
Vocals by Noelle Jones and Rachel Roberts

-----------------------------
PRIVACY DISCLOSURE

"iTouchiLearn Words for Language Skills, Speech & Early Learning":

- Does not include any analytics.
- Does not include any ads.
- Does not include any in-app purchases.
- Does not include social network Integration nor other social features.
- Includes email links for feedback and sharing app link with others.
- Includes links to preview additional apps created by Staytoooned.
---------------------------
Eggy Vocabulary
To communicate well, children need to develop a large vocabulary, and it's an essential part of learning to read. Eggy Vocabulary is a unique hidden picture app for the iPad where children aged 3+ learn 252 words by exploring 7 visually captivating destinations.

Eggy Vocabulary takes your child through 7 action-packed days of the week, with each day presenting a fun new destination to explore, including the Zoo, Museum, Mountains, School, Beach, Toy Shop and Playground.

Each destination has lots of words for children to read and hear, and matching images to locate – helping your child expand their vocabulary. The app also features 7 specially written ebooks full of funny illustrations, wordplay, numbers and things to find!
Vocabulary Buddy
Our Mission:
Easy and efficient game based study of teaching spelling and vocabulary to your children (Between age 3-7 years). Spelling is the writing of one or more words with letters and diacritics.

Spellathon contains more then 300+ words, each words with engaging animation,sound,phonic in 3 different difficulty levels.

Features:
=========

* 3 Difficulty levels for 3 letter, 4 letter and 5 letter words.
* Make your child learn how to identify and write words.
* Interactive level design for your child.
* Make words from available alphabets and check it correctness.
* Hint option available for kids to identify words easily.
* You will have hidden surprise during game play.
* Universal application runs on iPhone and iPad.
Kids' Vocab - MindSnacks
*** One of the best educational apps of the year - Apple (iTunes Rewind) ***
Now kids can build vocab anywhere, anytime, all while having fun. With 9 addictive games designed to help understand words rather than just memorize them, our Kids' Vocab app will broaden kids' vocabularies and sharpen their reading & writing skills. There's only one rule: no boring flash cards allowed.

Just like in our Parents' Choice Award-winning SAT Vocab app, the games in Kids' Vocab focus on different aspects of vocabulary development. Each lesson features new words and phrases while teaching spelling, usage and pronunciation. In other words, vocabularies everywhere are about to hit a major growth spurt.

Perfect for children ages 7 to 12 (grades 2 - 7), Kids' Vocab includes one free lesson. And with 25 full lessons in the upgraded version, be warned: consistent use may result in increased reading comprehension, frequent use of big words and occasionally outsmarting full-grown adults.

* PRESS *

The Guardian
Kid's Vocab named one of the "best apps for kids from 2013 that parents can trust."

The iPhone Mom
"My 10 year old daughter has been devouring MindSnacks' Kids' Vocab faster than an after school snack. I love watching her vocabulary grow and she's even conquering her spelling nemesis. Just like making healthy snack choices after school, MindSnacks is an addicting app that gets this Mom's approval."

* FEATURES *

-- 9 unique games including one designed to teach proper word usage
-- Curriculum based on Common Core Standards and designed to teach context, spelling, categorization and more
-- Game speed and mechanics optimized specifically for kids ages 7-12
-- Hand-illustrated image library and spoken audio clips to help memorize words
-- 350 essential vocabulary words & phrases to master
-- 25 lessons tailored for elementary & middle school students (upgrade required)
-- Personalized learning algorithms to maximize memorization & retention
-- Additional quests & challenges will keep kids motivated
-- Not a single boring, mind-numbing or snooze-inducing quiz, class or lesson allowed

* WHAT OUR (SUPER AWESOME) FANS HAVE TO SAY *

"I got this for my 7-year old niece and she is addicted to the cat game (Pounce). So good to see her enjoy a game that's educational!"

"The lessons are right on point, and they've introduced some really stunning features. My kids just adore it. Love the fish game 🙂 Well done!"

* THE SCIENCE BEHIND MINDSNACKS *

At MindSnacks we like to keep it fun, but we're serious about learning. That's why our Kids' vocab app includes 9 rich and engaging games designed by Ivy League instructors. Each app focuses on a different aspect of vocabulary building, creating a well-rounded learning experience that goes far beyond simple flashcards and word lists.

All lessons in Kids' Vocab were formulated by in-house education experts who synthesized a list of indispensable words and phrases using their own research as well as numerous state curricula. As kids play through the games, they will encounter usage guidelines and example sentences as well as fun factoids about homophones, word parts, etymology, and figurative language. The games also feature a unique algorithm that adapts to each student's performance, selectively repeating material the student has yet to master. It truly is the only vocab app for kids that was built on their terms.

Perfect for kids ages 7 to 12 (grades 2 -7), our Kids' Vocab app will keep little learners everywhere entertained just about anywhere. And with nary a flashcard in sight, vocabularies everywhere are set to launch well into the fourth dimension of awesome.

* SUPPORT *

For more information or support, please contact us at support@mindsnacks.com. Or if you're feeling social, come on over and like, follow or tweet us.

VISIT US: mindsnacks.com
FOLLOW US: twitter.com/mindsnacks
LIKE US: facebook.com/mindsnacks
GazziliWords
*GazziliWords is a Webby Award Nominated Interactive Preschool Vocabulary App!

2Wired 2Tired: "GazziliWords places your child into a learning playground. With 24 different learning topics, your child will have all sorts of fun learning experiences while combining the touch screen interaction and basic reading."

*GazziliWords was awarded as a 'Top Pick' from funeducationalapps.com! "I like the way GazziliWords acts like a visual encyclopedia designed for preschoolers. It makes the ideas come to life, and that's what makes it special."

*GazziliWords for iPad, iPhone, and iTouch, has been upgraded to incorporate iOS 8 functionality!

*Watch GazziliWords challenge Preschoolers with important words that can otherwise be difficult to define and describe—like fingerprint, internet, and blood—in a fun, kid-friendly way!

*GazziliWords' 'dual-curriculum' approach introduces children not only to important subject matter, but to technology they'll be using as part of their education for years to come!

When a child touches a word on the Home Screen, explanations and games bring that word to life.

Colors & artwork. Music & sounds. Friendly, hands-on activities. GazziliWords is a multi-sensory learning experience.

Early childhood educational experts from Stanford University and New York City's The Dalton School helped develop GazziliWords to ensure its educational benefits.

Features:
--24 interactive read-along and play-along learning activities available now.

--Child selects a word, which is then described in the trademark GazziliWords style.

--Child interacts with the app to build a deep understanding of each word's definition.

--Delightful interactive animations, music, sound-effects, and surprise features.

--'Read To Me' mode to hear definition/story read aloud.

--'Hearing Impaired' mode

--Try the first 3 GazziliWords for Free!

Note: If you are upgrading the app and experience issues, please delete and reinstall the app. Our developers are working on correcting the issue as quickly as possible.
7 Little Words for Kids
* 2013 Children's Technology Review - Editor's Choice Award for Excellence in Design *

Well done. You've found the version of 7 Little Words that's made just for kids!

Discover 7 colorful worlds as you solve the mini word puzzles. But don't worry if you get stuck. You can always get a hint if you need it. It's made just for kids, but many parents will love it too.


7 Little Words for Kids features:

* KID SAFE! No ads and no in-app purchases
* 350 EASY words and clues
* Randomly generated puzzles for infinite replay
* Earn stars to unlock each world
* Cool statistics

Discover 7 colorful worlds:

* Scuba-venture
* On Safari
* The Museum
* Down Under
* Frozen Fun
* Spacewalk
* Dino-World

Over 6,000,000 people have downloaded the grown-up version of 7 Little Words, which was recognized in O, The Oprah Magazine and which received an Honorable Mention for Best Educational Game in the 2011 Best App Ever Awards.

From the creators of Moxie.
Retina and iPad ready.
Samantha Kotey is the editor for AvatarGeneration and has a background in educational technology and virtual worlds. A mom of two, she is passionate about all things related to toys and technology.