Showcasing the Benefits of Game-Based Learning in its Newly Remodeled PlayMaker Adventure Room, GameDesk Connects Core Curriculum with an Interactive Learning Experience.
At the recent PlayMaker Ribbon Cutting Event students, parents, teachers, and community members explored the transformed PlayMaker learning spaces and participated in digital learning games and maker activities. The Adventure Rom, a high tech learning space packed with plasma flat screens and floor projection, featured Filament Games' Reach for the Sun, a new digital game that teaches systems of plant growth and the process of photosynthesis.
"GameDesk saw great value in Reach for the Sun. Its ability to demonstrate systems of plant growth and the relationship between the root structures, leaf structures, flowering structures, and pollination is remarkable," said GameDesk Executive Director, Lucien Vattel.
GameDesk created curriculum to complement the game's features using its newly developed Play-Research-Present System. Pairing the game with curriculum empowers kids to be focused and research-oriented in a playful way. The peer-to-peer learning builds collaboration and problem solving skills, and the game play allows students to practice important scientific concepts in a risk free environment.
"It can be difficult to understand complex processes like plant growth and reproduction, but Reach for the Sun makes everything seem so easy and obvious," said Abby Friesen, Lead Designer for the game. "No textbook can match the experience of actually becoming a plant."
PlayMaker School was launched in the fall of 2012 as a partnership between GameDesk and New Roads School. Its philosophy centers on student guided learning and purposeful play through no tech, low tech, and high tech curriculum. Game-based learning is one approach PlayMaker uses to engage students in the classroom and teach fundamental concepts. Playing digital games provides quick and effective feedback, is popular among the digital native generation, and taps into problem solving and decision making skills essential for a range of disciplines.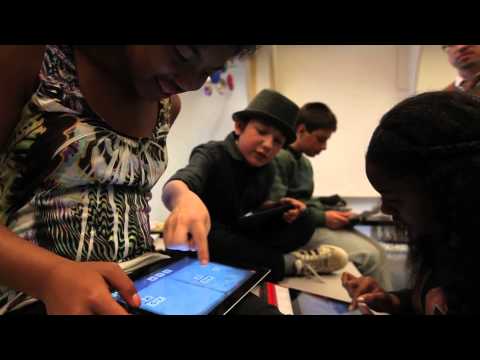 PlayMaker teachers challenge misconceptions of "play," emphasizing that play requires persistence and hard work and deserves a place in the classroom. It is a mindset that focuses on creating, exploring, and being fully engaged. "Rather then 'telling' students what they need to know we must 'frame' playful experiences to give them context, and then extract knowledge from that play to facilitate learning opportunities," said Tedd Wakeman, PlayMaker School Sixth Grade Teacher.
Filament Games, winner of the National STEM Video Game Challenge in 2011, is recognized as a bold leader in digital education games. Reach for the Sun was officially released in May of 2013 and is the engaging result of game-based learning meets artistry, producing a game that is not only functional, but also extremely beautiful. It aligns with key science standards and can be purchased for the home, classroom, or school district.