World Teachers Day is a day created by UNESCO that celebrates teachers which is held annually on October 5th since 1994. Its aim is to mobilise support for teachers and to ensure that the needs of future generations will continue to be met by teachers. Over 100 countries observe World Teachers' Day, and every year, a public awareness campaign is launched to highlight the contributions of the teaching profession. Check out this map of all the events happening over the world today.
With educational technology, UNESCO are doing some great work preparing the next generation of teachers to work using ICT in the Asia-Pacific region. The UNESCO teacher training website has lots of interesting information on the work that they are doing with teachers all over the world including this project in Niger where they are looking to improve science education for girls. We were also really interested in a virtual school set up in South Korea for children in hospital.
The site also has some interesting online resources such as an online education community, an ICT in education newsletter, and a portal for teachers. The portal has ICT guidelines and policies for teachers, links to lesson plans and resources and evaluation tools and indicators.
Fred van Leeuwen, General Secretary of Education International for World Teachers' Day 2012, speaks about the current problems and concerns teachers are experiencing. He makes some interesting arguments about testing, professional freedoms and wages.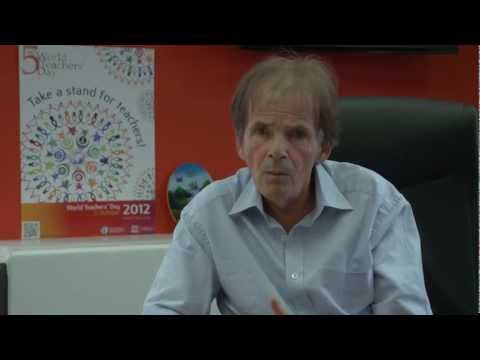 Have a root around the UNESCO website for some fascinating insights into projects all over the world, and see how you can get involved in World Teachers Day.
Check out this great Glog from GlogsterEDU.